Windows Games
Click on one of the images below to take you to the projects main page. The project page contains the program download plus further information.
---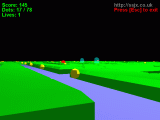 Other work in progress games / programs which have not got a project page...

Currently includes: 3D Maze, 3D Drive, Object Loader, Cybiko CVC Player.