Armour Ranger
This game is for Windows computers and is inspired by the Turrican / Metroid type of game.
There are 2 different missions for you to complete, the first requires you to find and destroy an underground weapon, the second is a rescue mission. You are armed with a standard blaster and a directional streamer weapon.
This version is purely a test release and has many features missing or incomplete. Everything is subject to change!
Download
Preview 3 [31/1/9] Updated download due to map error and stray thumbs.db
Screenshots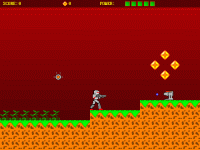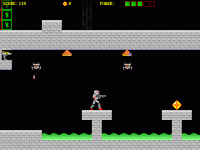 Feedback
There is a forum topic at the FreeBasic Games Directory here
Version History
Changes from preview 2a
New second level
Graphical tweaks
Reorganised file structure (to closer match java version) and made most text external
Various bugs removed/added...
Changes from preview 1 (Download Preview 2a - 102k)
Much larger level
Foreground graphics
Plot/Story
Collectables
Limited the streamer use
Various bugs removed/added...