Strategy Games
Here you will find stragegy games that can be played in your browser.
Adventure | Arcade | Educational | Holiday | Picture | Puzzle | Strategy
Space
Loosely based on the old text Star Trek game! Take command of your starship and search the galaxy for the enemy ships! Requires Adobe Flash

Tower Defense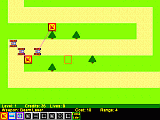 Stop the invading robot tanks by putting weapons towers on the map! Gain money by destroying the tanks and use this to build more and better towers! Requires HTML5 Browser

World Conquering
Turn based strategy game, take control of your army and try and beat the computer in taking over the world. Loosely based on the board game Risk. Requires Java.