Arcade Games
Here you will find games that can be played in your browser. These games require either Adobe Flash, Java or a browser that supports HTML5/Canvas (such as Firefox / Safari) to work.
Adventure | Arcade | Educational | Holiday | Picture | Puzzle | Strategy
Armour Ranger - Series
Updated! Turrican style platform shooter. Features 2 missions, destroy the underground Enemy weapon and rescue captured Alliance personnel! Requires Adobe Flash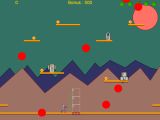 Assemble your ship and escape from the planet!
Requires Adobe Flash
Chuckie Egg
Infinite Star Racer - Series
Avoid the space debris for as long as possible in this continuous game!
Requires Adobe Flash
A variation on the previous iRacer games! You still have to avoid space junk, only this time you only have one key/button and can only control your ships upward thrust! Without this, your ships starts plummeting towards the ground!
Requires a modern brower.
Invaders - Series
Destroy all the invaders!

Requires a modern browser.
Recover the captured invasion fleet!

Requires a modern browser.
More Games...