Word Search - Create And Play Your Own Word Searches
Create word search puzzles from words list with this easy to use free application!
Features
Easy to use
Just select 'Create' from the 'File' menu and type in a list of words!
No install required
Just extract the zip! This program was made using Freepascal / Lazarus and has no dependancies. It can also be taken with you and run from a USB drive.
Export as HTML
Export as a web page, this allows you to easily share and print your word searches!
Download
This applications was made and tested using Windows XP, but it will probably work fine on anything from Windows 2000 upwards.
Click to download (.zip 681kb)
Version 0.2 [12/07/15]
Visit the
Educational Games
section of this site for more word, maths and memory games!
Screenshot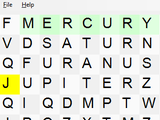 Version History
Version 0.2 (12/07/15)
Recent menu - Improvements / Fixes
Various fixes...
Version 0.1 (07/06/15)