Random Select
What is it?
This application displays images from a folder and then randomly selects them.
Example uses include:
Randomly selecting students to quiz in lessons - Simply create a folder with student pictures in it!
Randomly selecting prizes to award - Create some prize images and put them in a folder.
Features
Easy to use
Create a folder of JPEG (.jpg) images that you want to be displayed, then select it by going File > Open.
USB Presenter friendly!
If you have a usb presenter device, you can also use that select the next image, just press the slide advance button.
No install required
Just extract the zip! This program was made using Freepascal / Lazarus and has no dependancies. It can also be taken with you and run from a USB drive.
Download
This applications was made and tested using Windows XP, but it will probably work fine on anything from Windows 2000 upwards.
Click to download (.zip 686kb)
Version 0.2 [16/07/15]
Visit the
Educational Games
section of this site for more word, maths and memory games!
Screenshot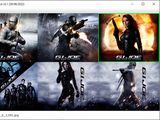 Version History
Version 0.2 (16/07/15)
Improved jumble
Nicer 'About' dialog box
Version 0.1 (12/07/15)