Notek - A Simple Note Taking Application
Create and search for notes quickly and easily. Just enter a title and start typing, notes are automatically saved as you work!
I made this after reading here about 'Notational Velocity', an application for the Mac that allows the user to easily create notes. This seemed like a great idea so I made this (much simplified) version for Windows which also allows the user to create and search for notes very quickly.
Features
Easy to use
Just type in a title and press enter! To find a note, just start typing and any matches will be displayed. Currently only titles are searched.
There are no save or load buttons as everything is saved automatically! Notes are saved every few seconds while you work
No install required
Just extract the zip! This program was made using Freepascal / Lazarus and has no dependancies. It can also be run from a USB drive.
Download
This applications was made and tested using Windows XP, but it will probably work fine on anything from Windows 2000 upwards.
Click to download (.zip 733kb)
Version 0.1 [23/07/15]
Screenshot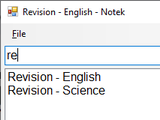 Version History
Version 0.2 (23/07/15)
Various tidying and cleaning
Version 0.1 (24/05/11)