Little Man Computer
Based on the Little Man Computer by Dr. Stuart Madnick as described on wikipedia. The LMC is a simple computer that can be programmed using either assembly language or by directly editing the values in the RAM boxes.
This is the Windows desktop version and is based on the Adobe Flash version on this site. It is also a work in progress.
Features
No install required
Just extract the archive! This program was made using Freepascal / Lazarus and has no dependancies. It can also be taken with you and run from a USB drive.
Export Options
Export the RAM boxes as a CSV file to easily import into a spreadsheet.
Download
Both the archive files below contain exactly the same files. The 7zip archives are smaller, to find out more about them visit http://www.7-zip.org/
Version 0.1 [06/05/18]
Screenshot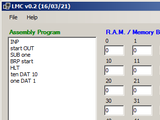 Version History
Version 0.1 (06/05/18)